All Tied Up
I kinda have a thing for headscarves. I love them. I have this fantasy that I would be on the Riviera in a convertible with great big sunglasses and my hair pulled back in a gorgeous scarf. But it's one thing to like them and another thing to have to wear them.
I'm talking about when you're sick and you're on medicine and your hair's falling out. How on earth do you manage to make yourself feel glamorous — heck, even somewhat normal? Hair is such a sensitive thing. It is emotional to us, especially as women. We feel a deep connectivity;  our sense of self is very much wrapped up in our hair. So when it's gone, whether it be by botched haircut or chemotherapy treatment, it can be devastating.
My mom is going through this right now. She doesn't have cancer, but she is on a drug frequently used for cancer patients, and one of the side effects is hair loss. She is so so brave, let me tell you. Way braver than I ever would be. She's put up with so much, and this next week she gets to go to one of the best clinics in the nation for her specific disease, to get more help and learn more about how to manage this nasty little illness. So she's been wanting help with scarves, and so I got online today at Style.com and started looking up images. How do you make yourself feel better when you're already feeling not so hot? Most of these are Prada, Celine, and others that I can't remember, but I found them all inspiring.
Those last two images are my favorites!
In my opinion, the key to these looks is to accessorize. If you are feeling particularly down about your hair situation, you need to find another way to focus on feeling pretty. In this case, a pretty scarf that goes with your outfit. And in addition, some dangly earrings as well. If you are a big sunglasses person, go with that too. Glam it up. Have as much fun with the look as you can — channel Jackie O or one of these pretty Palm Beach-esque girls above. Even if you're not into makeup at all, you can try a new lipgloss or lipstick to bring some color to your face and look more "done."
Notice also in these photos that there is a lot of emphasis on the necklines. Draw attention to your neck or collarbone with a V-neck or other detailing. Choose simple, delicate necklaces.
When it comes to choosing a scarf, there are tons of options, but the bigger the size of the scarf, the better — that way you have more fabric to work with. The trick is to make a triangle with them and then begin to wrap it around your head. Practice is the key — keep playing with it until you get the desired look. Also be sure that it doesn't ride too high on your forehead.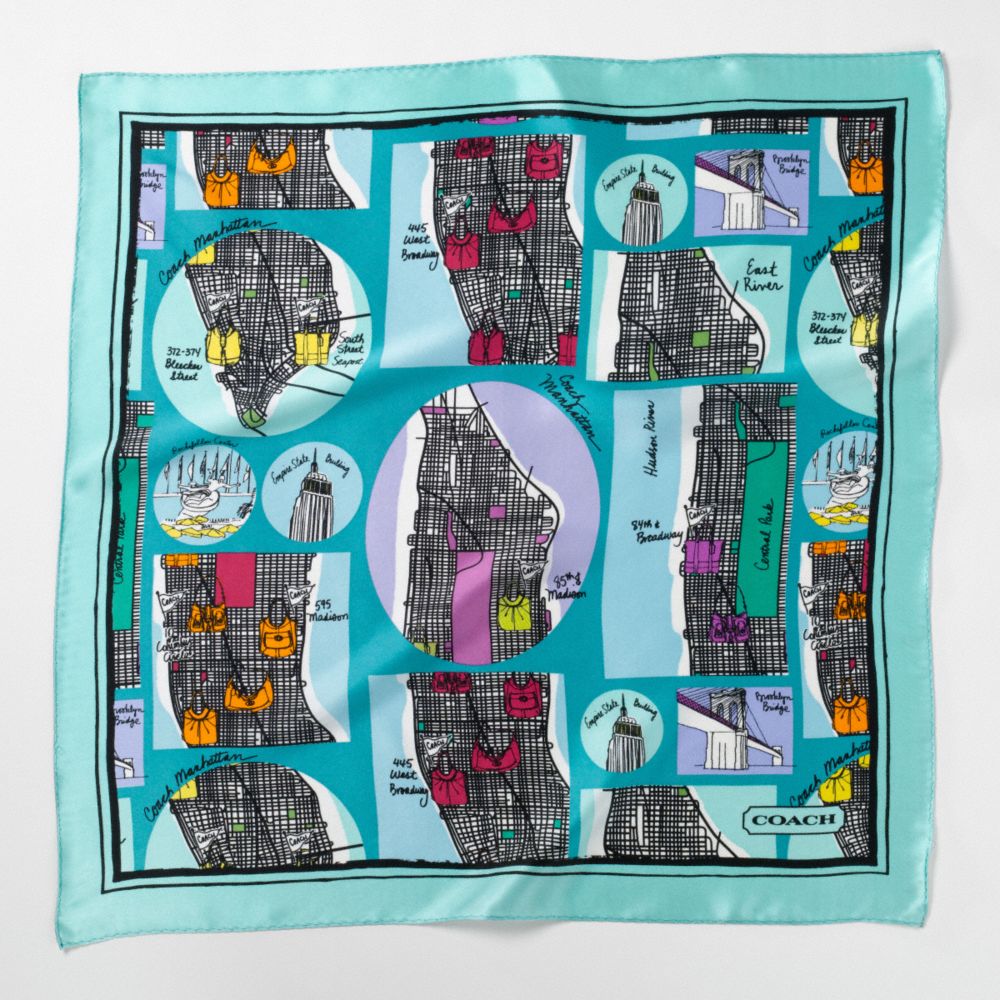 This "metro" print from Coach is so much fun. A great vintage illustration.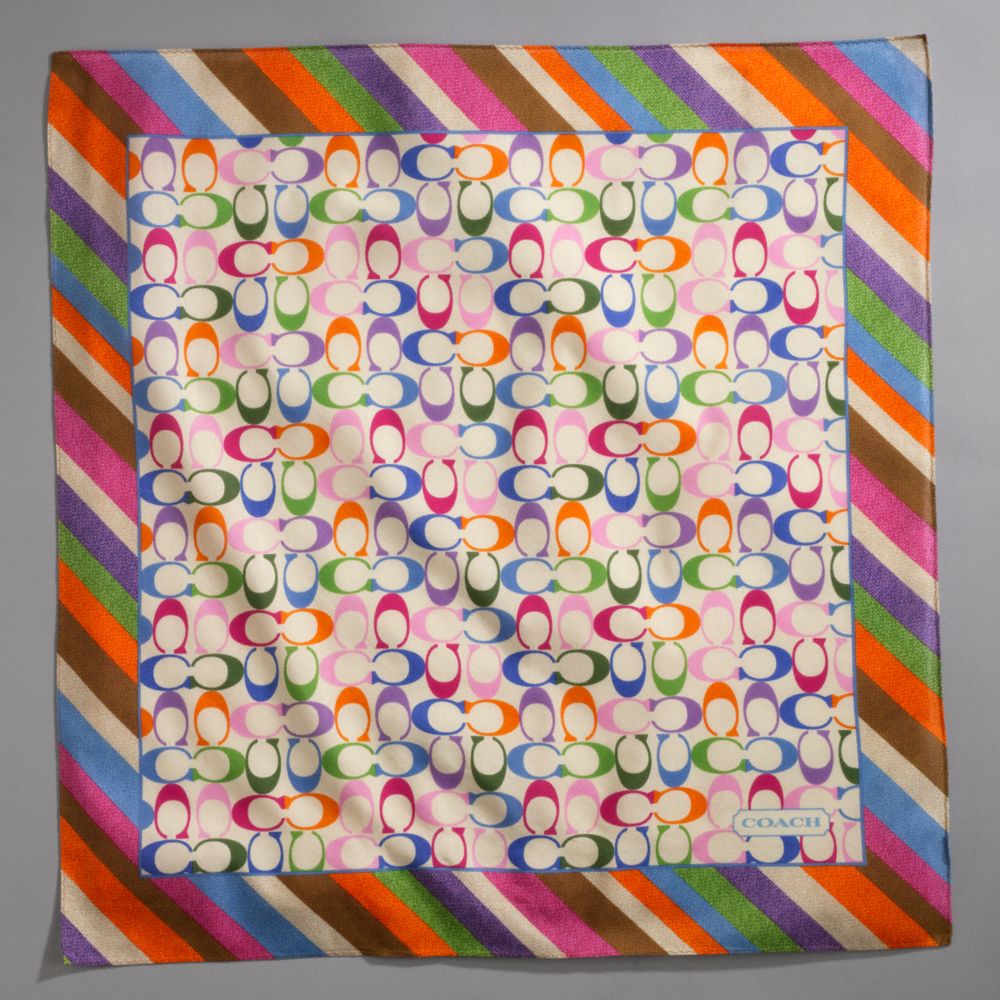 The multicolor stripes are so pretty!
Jury's still out, in my mind, on hats. I might be tempted to have my head wrapped in a fun scarf, and top it with a cute hat if it were particularly cold outside. One like this –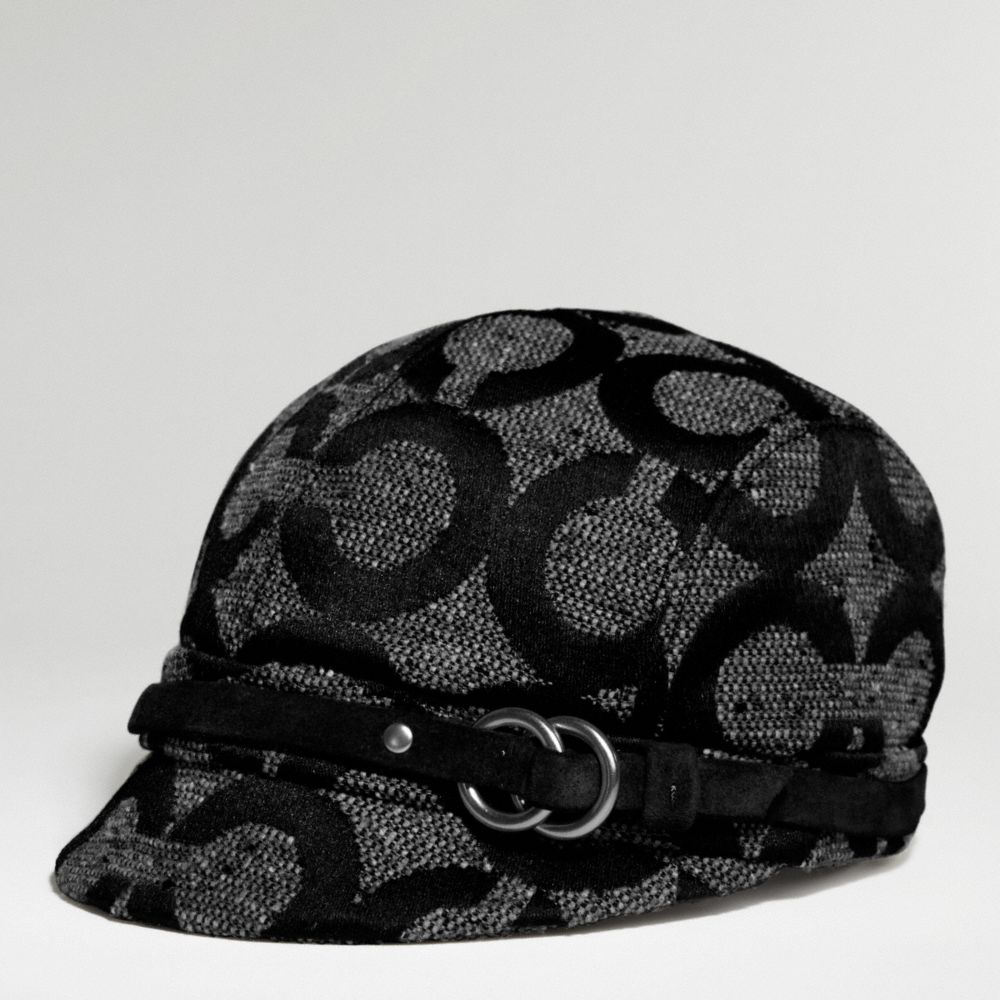 All of these options above can be viewed here, at Coach.  Or maybe a cute knit cashmere cap!
A GORGEOUS offering from Louis Vuitton. I adore the bright colors. Gorgeous.
What about some pretty earrings to complete your look?
Aren't these divine? Kenneth Jay Lane hoops at Vivre. These would make anybody feel fab, hair or no hair!
Whew! Look at the beautiful depth of color in these! Also at Vivre.
A pretty necklace at Anthropologie. Wear this with simple clothes — a plain tee and jeans or a simple shift. It's big and loud enough that it needs to be the dominant item.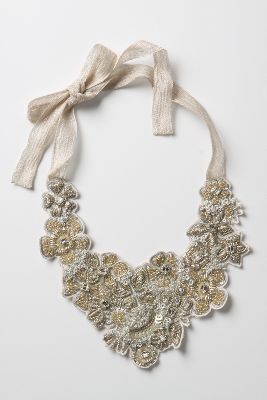 Whatever your situation may be, I hope that this is helpful in some way. While I've never dealt with an illness that causes me to lose my hair, I have dealt with illness that causes me to not look or feel like myself, and I know how discouraging that can be. In the end, I hope that you can do what you can to make yourself feel more like normal, whether it's pampering yourself with manicures and pedicures, or picking out a pretty scarf. Maybe you need a different size of clothing (like I did with my prednisone weight) to get you feeling good despite your change in weight, whatever it might be. Regardless, like my dear sweet grandmother Blanche always said to me, "This too shall pass!"
I love you, Mom, and I wish you a bon voyage as you go to Maryland this week! I know it will be a good experience! LOVE YOU!!!!
4 Comments so far
Leave a comment